Rakia Free zone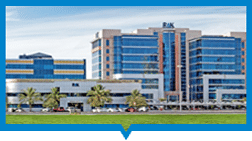 Professional services for a successful RAK freezone company formation
Fitch Ratings has recently awarded RAK's Free-Trade Zone (FTZ) with a rating of A, with stable outlook, citing the Emirate's activities in construction and tourism as key drivers of economic progress. With a positive and strong economic forecast, many investors are looking into the procedures and requirements for a smooth and cost-effective RAK freezone company formation.
Here at Cross Link, we have a team of business setup experts who can help you analyse markets and determine which of the following RAK freezones make the ideal location for your company: Technology Park, Business Park, Al Ghail Park, and Industrial Park.
Establishing a free zone business offers significant financial and trade opportunities for businesses and investors, such as the following:
100 percent company ownership
Tax exemption
Lower rates for renewal
Complete privacy of corporate activities
Freedom to open and own local bank accounts
Freedom to trade with international businesses
Freedom to own properties
RAK Free Zone Company Setup
The Emirate of Ras Al Khaimah is poised for further economic growth in the coming years, particularly in its industrial and tourism sectors. In fact, experts have noticed a yearly increase in the amount of business licenses issued, cementing RAK's reputation as one of the most lucrative business centres in UAE and the region. If you are interested in harnessing the economic developments in RAK, our business setup specialists at Cross Link International can guide you through the process of a RAK free zone company setup.
Comprehensive free zone business setup services in RAK
We provide complete, end-to-end services for setting up businesses in RAK's freezone areas. From registering your company and trade name, to applying for visas and opening bank accounts, we can help you accomplish each process with expediency and efficiency. We have an in-house team of highly qualified, multilingual professionals who can offer you their in-depth market knowledge so you can understand the processes involved and navigate through them successfully.
By providing an extensive range of services, Cross Link offers our clients the opportunity to save on costs, eliminate the inefficiency of liaising with different service providers, minimise chances for errors and delays, and avoid miscommunication.
Instead, our clients benefit from the ease and convenience of communicating with only a single service provider, which helps ensure all their documents are in one secure place, they are able to meet deadlines, and establish their business within the time and budget they have allocated.