Fujairah Freezone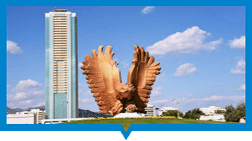 Advantages of setting up a company in Fujairah's Free-Zone
In addition to an advantageous location, FFZ offers cost-effective logistics channels to businesses via air, sea, and land due to FFZ's close proximity to Fujairah International Airport, Fujairah Sea Port, and to major highways and roads in the Middle East region. These key trade and shipping portals enable businesses to transport and receive their goods faster, which helps accelerate transactions and ROI conversion.
Other economic advantages that FFZ is offering include lower tariff rates, minimised capital and overhead costs, and shorter start-up time. In fact, business licenses in FFZ can be issued within one working day. If you are interested in how to get started, our company formation specialists will help you get started.
From the Fujairah freezone company registration to securing the necessary permits and visas, our company formation experts will guide you through each step and ensure your company is fully compliant
Fujairah Free Zone Company Setup
Fujairah Free Zone (FFZ) offers businesses ease of access to major Arabian Gulf ports and the Red Sea, as well as to trade routes through Iran, India, and Pakistan. It also offers regular mainline services coming from and going to Northern Europe, North America, the Far East, and the Mediterranean.
With such a strategic location for shipping and trade, Fujairah's Free Zone area holds a lot of potential for economic and business growth. For investors who are eyeing the market of Fujairah, Cross Link International can help you streamline and expedite the process of a Fujairah freezone company setup.
How our professional company registration specialists help you
Cross Link implements a structured and streamlined process for setting up a business in Fujairah. We can manage the complete, end-to-end process on your behalf, which gives you the opportunity to focus on building your business, while we take care of all the time-consuming processes and requirements.
Our specialists are well-versed with the mandated procedures and documentation, so we can help you secure and submit all paperwork on time. With our first-rate expertise, clients can avoid incurring mistakes which might end up delaying and costing their business more.
Establish your business in FFZ and leverage its economic advantages. Let CLI's experts help you navigate the process efficiently and successfully. Give us a call today!